Prizes
First prize: DJ at Doorly's W.A.R! Ship boat party in Ibiza (on Friday August 2nd) DJ at W.A.R! At Ibiza Rocks hotel (on Friday August 2nd) 1 night at a hotel in Ibiza Flights to Ibiza (up to £200) Runners-up prize: 5 x copies of Southern Fried & Tested 4 CD (mixed by Doorly)
How to enter
In 2008 a young, exciting DJ from Huddersfield entered and won a competition to support Armand Van Helden and Fatboy Slim at a Southern Fried Records party in Brighton. Fast Forward 6 years and Doorly is now firmly part of the family and mixing the 4th installment in the prestigious 'Southern Fried & Tested' mix series. To celebrate this he has now turned judge and will offer one lucky winner an incredible opportunity, to fly out to Ibiza and play with him on his W.A.R! Ship boat party and then at a W.A.R. event at the famous Ibiza Rocks hotel on the White Isle! Entrants must be 18 years of age or older. Upload a 30 min DJ mix containing 100% Southern Fried Records tracks to Mixcloud Title the mix Southern Fried Tested 4 W.A.R! DJ competition Tag it with Southern Fried Tested 4 W.A.R! DJ competition. If you fail to tag it correctly, your entry may be missed. Include the competition cover-art, provided here Add an accurate tracklist.
Territories
Competition open to European residents only.
Judging
Entrants will be judged on factors (but not limited to) number of plays, favourites, positive feedback, track selection, originality and technical ability Mixes must gain over 100 plays to be considered for the shortlist Entrants will be encouraged to show an ability to promote themselves by the tools available through Mixcloud and other social media platforms The final decision will be made by Doorly & Southern Fried Records Have a question about this competition? Go to our support page.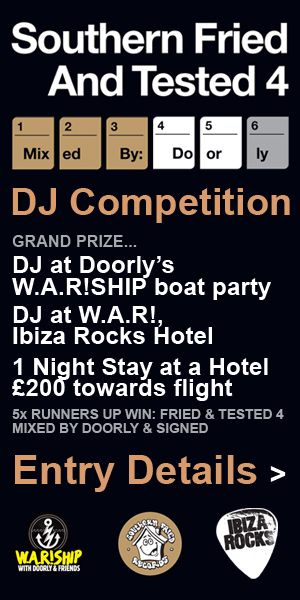 Southern Fried & Tested/W.A.R DJ competition
This competition is closed