Prizes
Grand Finale Winner - Play four sessions at Pacha alongside some of the biggest names in international house music - Record and release three mixes with Pacha recordings - Travel in style as you headline the Movida Corona 2014 tour - Flights an accommodation for all your Movida Corona exploits UK Final Winner - Play at Pacha Ibiza's closing party this summer; be part of the Movida Corona Grand Finale - Flights and accommodation for one winner to the Movida Corona Grand Finale in Ibiza Secret Party Project 'Deejay aftercare package', including sets at four events, VIP packages for friends, and a studio production introduction day - 10 Cases of Corona Extra to share with friends UK Final runner-up - DJ set at a Secret Party Project event with VIP tickets for 8 friends - Guest mix on Secret Party Project's Podcast - Guest mix on the Transmission Project radio show - 5 Cases of Corona Extra to share with friends Regional Winners - Hotel and VIP package for you and one guest during the UK Final - Free entry for a further 10 guests to the UK final - Play live on Mixmag's DJ webcast in London - 2 Cases of Corona Extra to share with friends
How to enter
Corona Extra is giving DJs across the UK the unique opportunity to be flown to Ibiza this summer to play a set at Pacha's closing party. Now in it's 13th year, the international Movida Corona DJ competition is the perfect platform for up-and-coming DJs to launch their careers.
To enter, simply submit a mix following the instructions below. More than 50 chosen DJs will then compete for a place in the UK final at parties all over the UK. Only one will survive to advance to the grand finale in Pacha Ibiza this summer, with more sets and releases with Pacha recordings on the line.
If you dream of playing alongside some of the biggest names in international house music in one of the world's most iconic clubs, leave your past behind and kick-start your career now.
Movida Corona expects competition entrants to be hungry, talented, up-and-coming DJs. Show us your breadth of house-music knowledge and get our feet moving. Your entry should suggest what you would play to get the crowd bumping should you make it to the Grand Finale in Ibiza.
Upload a mix of no more than 30 minutes on Mixcloud with a tracklist.
Title the mix Movida Corona UK and add your tracklist.
Tag it with Movida Corona UK. If you fail to tag it correctly, your entry may be missed.
Use the Movida Corona cover-art in your mix (right click here, 'save image as').
Enter your local city in the Country and City section of your Mixcloud account here
Territories
Entrants must be 18 years of age or older and reside in the United Kingdom.
Judging
- Entrants will be judged on factors including (but not limited to) number of plays, favorites, positive feedback, track selection, originality and technical ability. - The judges are looking for DJs who show commitment and are able to use the tools available on Mixcloud and across the web to promote themselves effectively. They will receive an asset pack to help them support their mix across their social media platforms. - Entrants will be encouraged to show an ability to promote themselves by the tools available through Mixcloud and other social media platforms. - Guest judges from Pacha and Movida Corona.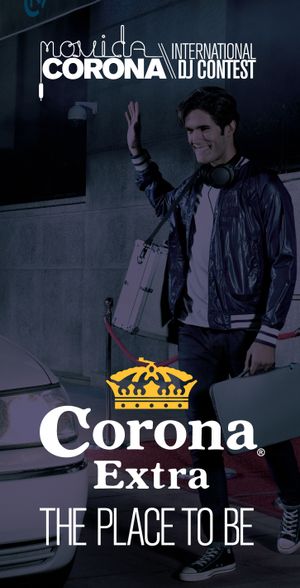 Movida Corona UK DJ Contest
This competition is closed