Prizes
A warm-up DJ set for one of the Bizarre Ride To Europe tour dates Meet and greet the Bizarre Ride Live group Signed copies of Bizarre Ride II The Pharcyde Delicious Vinyl goodies!!
How to enter
Bizarre Ride Live Bizarre Ride Live is the visually vibrant, aurally astounding, and truly one-of-a-kind tribute to the classic hip-hop album Bizarre Ride II The Pharcyde, presented by Delicious Vinyl. Playing The Pharcyde's seminal debut in its entirety, original members Fatlip and SlimKid3 have re-joined forces with Bizarre Ride producers J-Sw!ft and L.A. Jay to create this unique spectacular. Expect animated hip-hop, energetic raps, bright colors, b-boy throw-downs, magnetic visuals, a heavy dose of humour, and absolutely everything in between. After a sell-out premiere at The Roxy Theatre in Los Angeles and epic shows in San Francisco, Germany, Eagle Rock Festival, and Japan in 2012, Bizarre Ride Live is gearing up to tour their tribute in the U.S. and Europe in 2013. The Bizarre Ride album itself is a playful, tripped-out listening experience to be had, so in keeping with the Bizarre Ride spirit, we want you to get creative! For an entry of no longer than thirty minutes you could remix the songs, delve deep into the album's DNA, tell your own stories of teenage mischief, or create your own mini-epic in audio form… We want you to take us on your own Bizarre Ride! Record your thirty-minute entry inspired by Bizarre Ride II The Pharcyde. Title it "Bizarre Ride II Europe DJ Competition" Tag it with "Bizarre Ride II Europe DJ Competition" (if you fail to tag it correctly, your entry may be missed) Include the competition cover art. State which tour date you would like to play in the description of your entry (for example: Berlin, Germany).
Territories
The competition is open to all cities that the tour is coming to, but there will be one winner and they will need to arrange their own transport.
Judging
Entrants will be judged on factors including (but not limited to) originality, creativity, numbers of plays and favourites, positive feedback, and technical ability. Mixes must gain over 100 plays to be considered for the shortlist. Final Decision will be made by Delicious Vinyl and Mixcloud. Have a question about this competition? Go to our support page.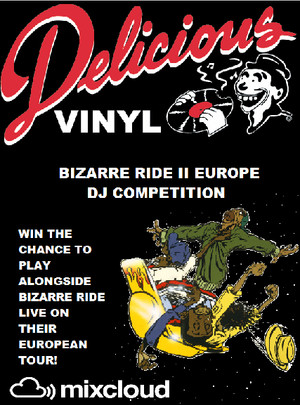 Bizarre Ride II Europe DJ Competition
This competition is closed