Prizes
The winner will not only score a free trip to South Beach, but will win a coveted opening DJ slot for the hottest ticket in town.
How to enter
The Beatport Beach Party line-up is packed full of headliners and Beatport is looking for a talented DJ that will help get the party started. They want to hear your best 20-30 minute mix that reflects the sound of Miami. This is your chance to open for their artist line-up that includes names like Steve Angello, Richie Hawtin and more. Enter Now! Starting February 19th 2011, create your best 20-30 minute mix using at least 5 tracks from one of the Beatport genre top 10s Entrants must then submit their mix to Mixcloud with the following requirements in order to continue to the Beatport judging phase: Title "Beatport Miami DJ Competition Mix" Mix must be 20-30 minutes long The mix must include at least 5 tracks from 1 of the Beatport top 10 charts indicated in your tracklisting Include tag "Beatport Miami DJ Competition" as well as genre(s) of mix Include "Beatport Beach Party" cover art - click here to download Entrants must be 21+ years of age and have a valid passport at the time of contest launch
Judging
Entrants will be judged on factors including (but not limited to) number of plays, favorites, positive feedback, tune selection, originality, technical ability and overall positive reflection of Beatport and the Beatport Beach Party in Miami. A panel of Beatport DJs will select the final winner and they will announce March 8th, 2011. All entries must be received by 11:59pm MST March 1, 2011 to qualify.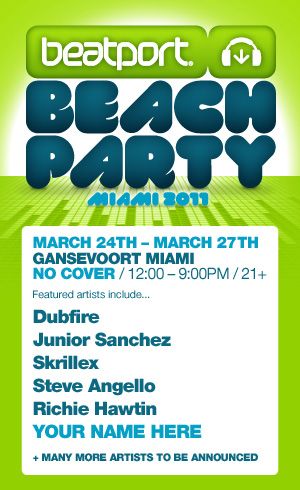 Beatport Miami DJ Competition
This competition is closed