Prizes
Winner receives a trip to Zurich. Switzerland to perform their radio show at the 4th International Radio Festival, September 4-8, 2013 A Portable HD Radio Receiver and a Tabletop HD Radio Receiver, provided by iBiquity Digital All flights will be provided by Swiss Air. The winner must fly from a Swiss Air departure airport in the US or Canada Flight, Zurich airport transfers, and Zurich accommodation for 4 nights are included in the prize
How to enter
Are you a US College Radio DJ ready for international exposure? The IRF Search for the Best US College Music Radio Show, presented by HD Radio™ Technology, in association with Mixcloud & CMJ, invites all US College Radio DJs to submit their best music radio show for a chance to present their winning show at the 4th International Radio Festival – taking place in Zurich, Switzerland on September 4-8, 2013. You will be flown to Switzerland and introduced to top music industry executives. Entrants must be 18 years of age or older. Upload your weekly radio show. All styles of music are welcomed! Submitting more than one show is encouraged. Judges will look more favorably upon presenters who can showcase consistency and variety by uploading shows regularly during the competition period. Title the mix IRF Search for the Best US/Canada College Radio Jockey Tag it with IRF Search 2013. If you fail to tag it correctly, your entry may be missed. Include the competition cover-art, provided here Add an accurate tracklist. Share your shows on Twitter with the hashtag #IRFSearch. Get as many people as possible to listen to and favorite them!
Territories
Competition open to US and Canadian university radio DJs only.
Judging
Entrants will be judged on factors including (but not limited to) number of plays, favorites, positive feedback, personal style, track selection, originality, and technical ability. Submissions will be judged by a panel from the International Radio Festival committee. Have a question about this competition? Go to our support page.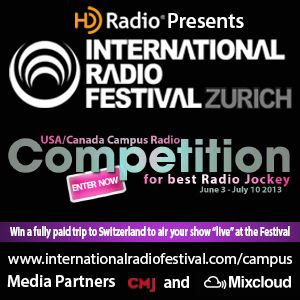 IRF Search for the Best US/Canada College Radio Jockey 2013
This competition is closed