Prizes
The prize includes music production training from leading music college Point Blank, Ableton and Loopmasters software, DJ gear from Sennheiser and UDG, trade passes to BMC, and direct access to a leading label's A&R team for demo feedback.
The competition will give the winning DJs the skills, knowledge, equipment and contacts to launch their DJ careers. The four labels who have partnered with BMC to judge the DJ contest are Wolf + Lamb Records, Mobilee Records, Shogun Audio and JOOF Recordings.
How to enter
WINERS ARE:

House Winner: Mandilakhe Zazela (Collective Soul)
Drum and Bass Winner: Alex Herr (Focuz)
Techno / Tech House Winner: Gabriel Gros
Trance Winner: Dave King



Calling all aspiring DJs! The UK's new electronic music business event, Brighton Music Conference, has teamed up with Mixcloud and four leading record labels to kick start the careers of four talented DJs.

How to Enter:

Upload a 30minute mix (no more) to Mixcloud
Title your mix 'BMC DJ Competition' followed by your DJ name.
Tag your mix with only ONE of the following genres: TECHNO, TECH HOUSE, TRANCE, DEEP HOUSE, HOUSE, DRUM & BASS.
Tag your mix with 'BMC DJ Competition' (otherwise we might miss it).
Tag the mix "BMC DJ Comp".
Use the cover art provided here.
Don't forget to include an accurate track list.
Judging
Entries will be judged by the competition's four label partners, each responsible for the following genres:
Entries will be judged purely upon music or DJ factors, including but not limited to track selection, mixing ability, set progression, and DJ skills. Only mixes tagged with one of the above genres will be listened to. Judges decision is final.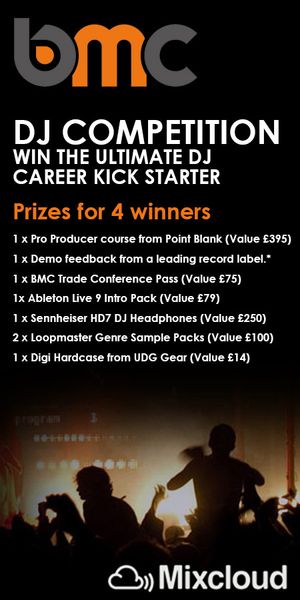 BMC DJ Competition
This competition is closed